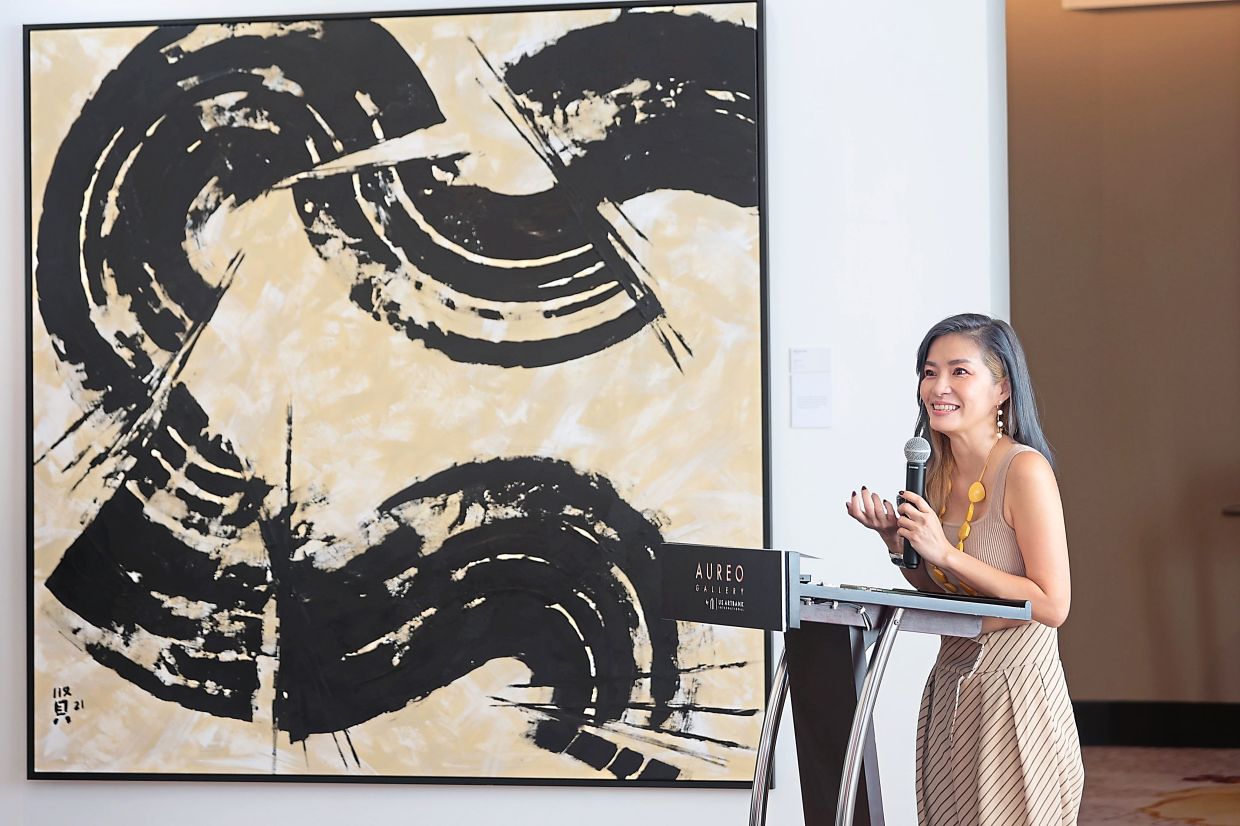 Abstract artist holds first solo exhibition in Malaysia
After being featured in a host of shows locally and internationally for more than a decade, Michelle Yap landed her first solo exhibition in Malaysia.
Themed "Altitude", the show was a reflection of Yap's own relentless attitude towards her pursuit of art.
The 45-year-old abstract artist said her works were inspired by the belief that one's attitude determined one's altitude.
She aimed to bring to life messages of inspiration and motivation that were sparked by her own daily experiences and interactions with others.
"For example, 'Perfect Cut (2021)' depicts the struggles I face as an artist who craves perfection," explained Yap.
"But perfection does not exist, nor should it be perceived as your limit.
"The message in this piece is that there's bound to be an obstacle every turn you take in life.
"When faced with an obstacle, some will choose to give up along the way and some will continue on.
"For me, I believe that as long as you never give up, you'll make it. The secret is to find your own cut."
Perfect Cut was one of 18 pieces showcased in the two-day exhibition held during the last week of 2021.
She partnered with Aureo Gallery by US Artbank Inter-national for her show at The Crescent, Pavilion Hotel in Kuala Lumpur.
US Artbank International group is an investment holding company that endeavours to bring the best in fine art to the world and provide art investment opportunities to both new and long-time collectors.
"We are proud to be supporting Michelle Yap for her first solo exhibition here in Malaysia," said US Artbank International group executive director Serena Chiam.
"She developed a style of expression that combines the modern with the traditional, which echoes our company's mission to challenge, invigorate and push the boundaries of art."
A graduate of University of the Arts London, Yap brought her own perspective to the abstract art scene and before long, established herself by exhibiting artworks in places such as New York, Chicago, Singapore and China.
Yap is known for her signature minimalistic abstract pieces that feature heavy brushstrokes that hint at Oriental Chinese calligraphy, creating unique art pieces that bridge the modern and traditional elements.
Her art pieces have been picked up by private collectors and hotels in the United States, China, Singapore, South Korea, United Kingdom and Malaysia.
"Most of my artwork inspirations come from my struggles. I like to express my hardships through art," said Yap.
"'Pulse of The Dragon (2021)' is a piece I created when I was struggling with teamwork.
"It talks about a drummer hitting the drums intensively to help guide his team to win the dragon boat race.
"The beats give the entire team its momentum – rowing in tandem to reach the finish line together using the pulse of the dragon."
Moving forward, Yap shared that she would also be collaborating with Bentley Motors in a Chinese New Year 2022 video that showcases her artistic skills.